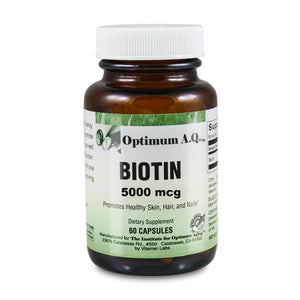 Part of the Vitamin B family, Biotin once a day is known for its role in energy production. Also its ability to promote healthy skin, hair, and nails.
Biotin is used as a coenzyme in the metabolism of proteins, fats and carbohydrates, has traditionally been used to strengthen brittle nails and improve skin elasticity. It has also been used to give hair more body and shine. Recent research has shown that when taken in high doses, typically 5,000 mcg, biotin can improve the abilities of the trace mineral chromium picolinate (used by the body to regulate blood glucose). In such a high dosage, this B vitamin can become extremely versatile, assisting in proper metabolism, blood sugar control and for hair, skin and nails support.
The Product
5,000 mcg of biotin, higher than typical dosages
100% vegan product
Potency reflects current research on blood glucose
Highest quality raw material ensures optimum purity, potency and safety
CONTAINS NO artificial colors, flavors or preservatives; no wheat, gluten, milk, eggs, peanuts, tree nuts, soy, crustacean shellfish or fish. Suitable for vegans
Hair, skin and nails enhancer
Also popular among pregnant women for prenatal support
Suggested use: Take one capsule daily with food.